Dr. Mehak Baber Ali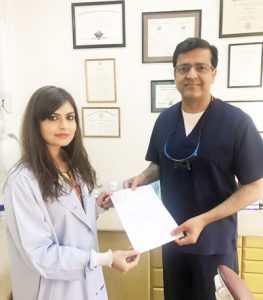 It was an amazing experience for me to have interned with the dedicated team at All About Teeth.
Under the watchful guidance of Dr. Noeen, the whole team at All About Teeth is extremely professional and technically sound at their job. The working environment is welcoming and induces perfection.
Dr. Noeen is a mentor to many. He taught me many things, most importantly, to always aim for excellence. Exposure to latest dental practices and equipment under his guidance has been an invaluable experience for my dental career. He is a gifted dental practitioner, who has honed his skills with years of hard work. His attention to detail and drive to achieve the highest standards of dental excellence is truly inspirational.
I am grateful to the whole team at All About Teeth for giving me the opportunity to intern in their setup.